Savings At Acorn Life
We all have things for which we want to save. Most of us put away a few euro every month into our bank or building society account to save for our next holiday or to build up some savings for the unexpected. Deposit accounts are generally good for short-term saving needs, but these accounts offer unattractive growth potential.
There are also very good reasons for saving long term, including saving for a long held dream, a child's education or a down-payment on a house. These could put a high dent in your family finances. The solution to these increasing costs is to plan ahead. This will ensure that in future you do not have to borrow at high interest rates or re-mortgage your home.
Acorn Life's Savings Plan
Acorn Life's Savings Plan offers you the opportunity to put money away for your child's education or a long held dream. Acorn Life's Savings Plan is a unit-linked plan and is primarily designed to enable you to build up a substantial sum of money in the future. Not only that, but we have designed the plan to change as your needs change so that you can alter your savings arrangements at every stage of your life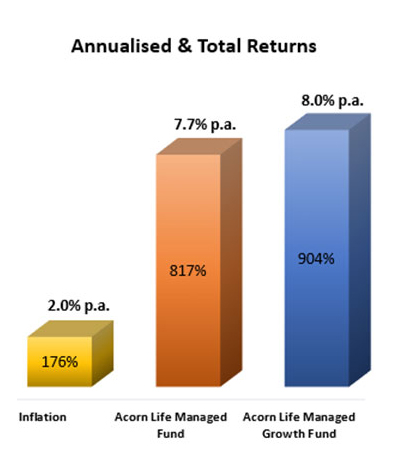 1st January 1991 – 1st July 2019. Source: Money Mate & Acorn Life. Offer to Bid Basis.
Source: Acorn Life DAC and Longboat Analytics (part of the MoneyMate Group, www.fund-focus.com accessed on 16/08/2019).
Basis: Gross returns on Offer to Bid basis after Fund Management Fee of 0.5% p.a. and before policy exit tax of 41% deducted.
Unit prices can fall as well as rise. Returns will depend on actual growth levels achieved. The recommended minimum investment period is 10 years.
Note 1: Acorn Life returns quoted are net of the bid offer spread and the annual management charges
Note 2: All returns quoted are before tax has been deducted.
Warning: Past performance is not a reliable guide to future performance.
Warning: The value of your investment may go down as well as up.
Warning: If you invest in this product you may lose some or all of the money you invest.
Warning: This product may be affected by changes in currency exchange rates.
Warning: These figures are estimates only. They are not a reliable guide to the future performance of this investment.
Warning: Deductions for charges and expenses are not made uniformly throughout the life of the product, but are loaded onto the early period.
Warning: If the consumer withdraws from the product in the early period, the practice of front-end loading will impact on the amount of money which the consumer receives.
If you would like to know more about Acorn Life's Savings Plan click here.
Your Questions Answered
Here you will find the information you need so that you can make your savings decisions with confidence.
What is a Unit Linked Fund?
Unit linked funds are investment vehicles that are available from life assurance companies and investment companies. Returns from unit linked funds will vary depending on the type of fund you choose, where the fund is investing and what type of things the fund invests in.
Acorn Life's Savings Plan offers four different types of unit linked funds:
The Deposit Fund
The Deposit Fund's objective is to achieve steady, secure growth with the emphasis on security through investing in deposits. This fund is suitable as a temporary home for money when markets are volatile.
The Cautiously Managed Fund
The Cautiously Managed Fund is suitable for investors who are prepared to accept a low level of risk for the prospect of a more attractive return than that offered by deposit type accounts. It invests mainly in bonds denominated in euro, issued by governments, agencies, supranationals and corporates. There is also a smaller level of investment in other asset types e.g. equities and cash.
The Managed Fund
The Managed Fund is for the investor who is looking for a spread of investment and long term growth. Through a carefully managed selection of equities and securities the fund aims to outperform returns from banks and building societies.
The Managed Growth Fund
The Managed Growth Fund is for the more adventurous investor. It aims for a higher return than the Managed Fund through investing more heavily in equities.
Acorn Life's Managed Fund, Managed Growth Fund and Cautiously Managed Fund are managed by HSBC Global Asset Management (UK), the global fund management division of HSBC Holdings plc, one of the largest financial organisations in the world. The Deposit Fund is managed by Acorn Life's in-house investment team.
Why should I invest in a Unit Linked Fund?
You need money on deposit in a bank for emergencies; however, you are unlikely to earn significant interest on a regular deposit account. For longer term savings, you may want to consider investing in assets that offer real growth potential such as stocks and shares. Investing your money sensibly for the long term can enable you to realise some of your dreams.
How does Acorn Life's Savings Plan Work?
Each month, or less regularly if you choose, you pay us the premium due under the policy. There is an initial period, during which the premium is not invested but goes to meet our costs incurred in selling, setting up and administering the policy. After the initial period, we invest the premium on your behalf in the fund of your choice.
The funds are typically invested in equities, unit trusts and Government bonds and are divided into a number of units of equal value, which are allocated to each policy. Each month some of the units are deducted from the fund to cover the cost of the company continuing to look after your policy. The remaining fund is there to provide cash benefits if you choose to surrender your policy in full or in part.
You can make lump sum extra payments into your policy if you wish. This will enhance your fund and provide a higher ultimate return in due course.
Are there any tax advantages to investing Acorn Life Savings Plan?
For policies taken out since 2001, Acorn Life's unit linked funds grow free of tax. Every eight years or upon surrender for cash, there may be a liability to tax. The tax payable is based on the amount by which the surrender value exceeds the premiums paid, allowing for any tax already paid on the policy.
The current tax rate applicable to such payments is 41% (as at October 2019). However, this can be altered by the Government and thus it is the tax rate applying at the date of surrender which determines the tax which will be payable. If you are an Irish resident, we will deduct the tax and pay it to the Revenue. If you are not resident in Ireland, or are exempt from paying tax on life assurance policies, we will pay the full amount without deduction of tax if we have received the required Revenue declaration.
10 Good Reasons for taking out an Acorn Life Savings Plan
Unlimited Growth Potential
Your fund will be expertly managed by HSBC Global Asset Management (UK), the global fund management division of HSBC Holdings plc, one of the largest financial organisations in the world.
Spread of Investments. Acorn Life Managed and Managed Growth Funds give a wide spread across world markets.
You can make additional contributions to your fund
You can transfer between funds.
Inflation Protection. To keep ahead of inflation and to maintain their real value, benefits and premiums will increase each year by the rise in the Consumer Price Index or 5% whichever is greater.
Transparency and Flexibility. Charges are transparent, there is no time limit for your investment and gains can be taken out.
Regular Valuations. Unlike other forms of investments, values on your investment are immediately available on request.
You have flexibility in deciding when you want to encash your investment. We recommend that you take a minimum 10 year view of your investment. However, your investment is open-ended and can be encashed at any time.
An interesting alternative. Low interest rates means that even larger amounts earn little interest. This plan offers you an alternative for your money over the next 10 to 20 years.
Important: Please note that the above are only brief summaries of the features of the Life Plan. The full terms and conditions are set out in the Life Plan Policy Provisions. Some of the charges on the Life Plan product are not applied uniformly throughout the life of the product but are deducted in the early years. If you withdraw from the policy in the early years the surrender value, if any, is likely to remain below the level of premiums paid into the policy.
For a summary of our Fees and Charges please click here.